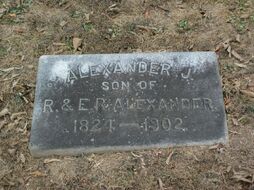 Alexander John "A. J." Alexander (October 7, 1824 - December 2, 1902) was a thoroughbred horse breeder.
Alexander was born October 7, 1824 in Woodford County, Kentucky. He and his brother ran Woodburn Stud out of Spring Station in Woodford County.
He died, December 2, 1902 in Woodford County and was buried in Frankfort Cemetery in Frankfort, Franklin County.