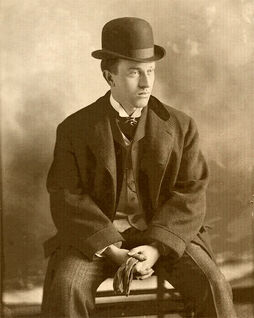 Albert Bacon Blanton (February 28, 1881 - May 21, 1959) was born and raised on a farm just outside Frankfort, Franklin County.
He began working at O.F.C. Distillery in 1897 as an office boy when he was 16 years old. Over the next few years, he reportedly worked in every department, and in 1912 he was appointed superintendent of the distillery, its warehouse, and bottling shop. At that time the distillery was renamed to George T. Stagg Distillery. He became president of the whiskey plant in 1921. He died May 21, 1959 at the age of 78. He was buried in Frankfort Cemetery.
Elmer T. Lee introduced the Blanton's brand of single barrel bourbon in Albert's name the year before he retired in 1984. Lee was hired in 1949. It was the first modern brand of bourbon marketed as single barrel bourbon.