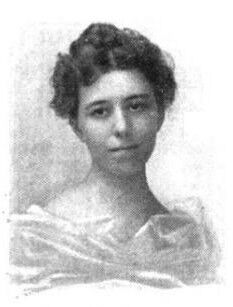 Alice Hegan Rice, also known as Alice Caldwell Hegan, (January 11, 1870 – February 10, 1942) was an American novelist.
Born in Shelbyville, Kentucky, she wrote over two dozen books, the most famous of which is Mrs. Wiggs of the Cabbage Patch. The book was a best seller in 1902 and is set in Louisville, Kentucky where she then lived. It was made into a successful play in 1903, and there were three Hollywood movie versions of it. The best known is the 1934 film starring Pauline Lord and W. C. Fields.
Hegan was married to poet and dramatist Cale Young Rice. The house they lived in at 1444 St. James Court is still standing. She was a niece of author Frances Little.
Several of Alice Rice's earlier works were translated into German, French, Danish, and Swedish, and three (Mrs. Wiggs, Mr. Opp, and the Romance of Billy-Goat Hill) were dramatized. Both before and after she became a novelist she was favorably known also for short stories contributed to the magazines.
She died at her home in Louisville in 1942.
Bibliography