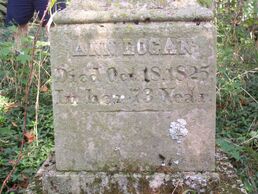 Ann Montgomery Logan (1752 - October 18, 1825) was born in 1752 in Virginia.
She married General Benjamin McKinley Logan about 1770 and with him had eight children, including Ezekiel, David, William, Jane, Mary, Elizabeth, John, Benjamin, Jr., Ann, and Robert.
After Benjamin Logan's death, she married Colonel James Knox January 1, 1805 in Shelby County.
Ann died October 18, 1825 in Shelbyville and was buried in the Logan Family Burial Grounds.