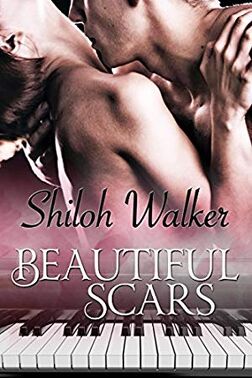 Beautiful Scars is a novel written by Shiloh Walker. It was first published in 2014.
Description
Some scars cut right to the heart.
Three years after her divorce, Chaili Bennett is over her ex. Her only problem now? Of the few men she's dated since, no one "gets" her. Not like Marc Archer - a man who's never seen her as more than a friend.
Marc Archer needs a date for a last-minute charity event, and he needs it fast. Not that women aren't throwing themselves at his world-famous face and body, but sometimes it's less messy - as in less personal - to use his sister Shera's escort service.
The last woman on earth Marc expects to see in his sister's office is Chaili. There's something different about her, but nothing pleases him more when Shera sets them up. That simple date quickly evolves into much more as they both discover the other fills a deep, secret need they've shared with no one else.
Though Chaili insists one night is all she wants, Marc isn't walking away now. Not until he discovers what put the shadows in her eyes. And the scars on her soul.
Warning: This book involves soulful songs, soulful sex, a soulful singer and lots of heartbreak. But no worries, there's a happy ever after.