The Sandman Will Keep You Awake - The Loop
Play Sound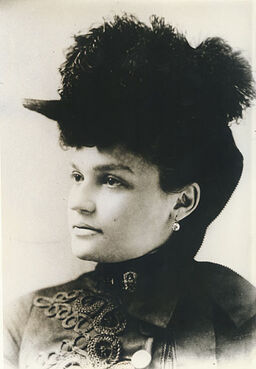 Belle Brezing (June 16, 1860 – August 11, 1940) was a nationally known madam in Lexington, Kentucky at the end of the 19th century and into the beginning of the 20th.
Belle Brezing was born Mary Belle Cox, the illegitimate daughter of Sarah Ann Cox. Ms. Cox then married George Brezing, whose name Belle adopted. Brezing had one daughter, Daisy May Kenney, who was raised by a neighbor.
Brezing is believed to have been the model for Belle Watling in Gone with the Wind. She is buried in Calvary Cemetery in Lexington.
Belle's first job in a brothel began December 24, 1879, in a house maintained by Jenny Hill, which has the distinction of being the former residence of First Lady Mary Todd Lincoln.
Her final and most elaborate "working house" was located at 153 Megowan Street (now 153 N. Eastern Ave). The brothels in the area were shut down in 1915 under order of the US Army since they were considered a distraction for the soldiers in the area. Belle continued to live there until her death in 1940. Her estate was auctioned off over several days. The house was converted into apartments and in 1973 a fire consumed the upper floor. The remaining architectural details were auctioned off. Bricks salvaged from the home were sold to the public with the inscription: "Brick from the Belle Brezing Home - The most orderly of Dis-orderly Homes".
Still standing, one of her other former houses, is on the campus of Transylvania University, and houses a women's locker room.