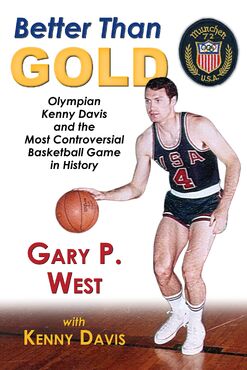 Better Than Gold: Olympian Kenny Davis and the Most Controversial Basketball Game in History is a book written by Gary P. West. It was first published in 2014.
Description
An Olympics like no other...
Every four years in the middle of the summer heat, the whole world turns its eager eyes upon a single gathering of the planet's best athletes for a series of sporting events to determine new thresholds of human excellence, strength, speed and skill, to determine the limit s of the human capacity to perform and to become unequivocally victorious in doing so. In the summer of 1972, however, there occurred such an Olympic gathering much unlike any other before it or, thankfully, since.
Conducted in the aftermath of an unprecedented terrorist attack that had invaded the tranquility of Olympic Village, leaving 11 Israeli athletes dead and the world aghast, was what was to become the most controversial basketball game in the history of the sport. As the USA s team took the court to play for the coveted Gold Medal, a team that had never been defeated in the history of Olympic basketball, there was an unnerving tension building as they prepared to play out the hardwood metaphor for the Cold War itself against the best and most experienced Soviet Union team ever assembled.
This is the story of Kenny Davis, captain of that very team, a sharp-shooting farm boy from Kentucky, cast onto the world s center stage in the challenge of a lifetime. Author Gary West once again rivets the reader to the pages as he relays how the hometown hero Davis strong rural principles propel him into that position of leadership, poised to take the crushing disappointment that would befall them, and head back home to success as a businessman marketing Converse s famous athletic shoes. Discover what Davis and all of the members of his 1972 USA Olympic Basketball Team did in amidst tragedy and injustice; something much more valuable than just winning a ball game, something much Better Than Gold.