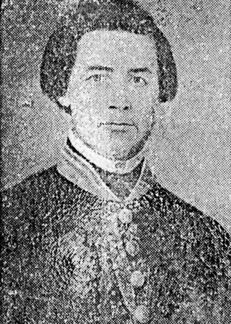 Beverly Leonidas Clarke (February 11, 1809 – March 17, 1860) was a U.S. Representative from Kentucky. He was known for his "sterling integrity, gentlemanly manners, and polished oratory."
Clarke was born in Winterfield, Chesterfield County, Virginia on February 11, 1809.
Clarke attended the common school and moved to Kentucky in 1823. He studied law in Franklin, Kentucky, and graduated from the Lexington Law School in 1831.
Clarke was admitted to the bar in 1833 and commenced practice in Franklin, Kentucky. He served as member of the Kentucky House of Representatives in 1841 and 1842.
Clarke was elected as a Democrat to the Thirtieth Congress (March 4, 1847 – March 3, 1849). He served as delegate to the State constitutional convention in 1849.
In 1855, Clarke, who was known as old-line conservative and proslavery candidate, was selected as the Democratic nominee for Governor of Kentucky. His opponent Charles S. Morehead, a former Whig U.S. Representative who ran with the Know-Nothing Party ran a campaign that focused on immigrants and vilified Catholics leading to bloody riots in Louisville. Although Clarke himself was not a Catholic, his wife was and that was used against him. Clarke had the support of John C. Breckinridge, who (successfully) ran to replace Morehead in the House of Representatives and would later serve as Vice-President of the United States from 1857 to 1861 under President Buchanan. Clarke was defeated by Morehead (69,816 for Morehead to 65,413 for Clarke) who served until 1859.
On January 7, 1858, he was appointed by President Buchanan as U.S. Minister to Guatemala. On January 14, 1858, he was also appointed as U.S. Minister to Honduras. He presented his credentials in Guatemala on July 13, 1858 and in Honduras on August 10, 1858, serving until his death in Guatemala on March 17, 1860. After moving to Guatemala, Clarke converted to Catholicism, confirmed by Bishop Bernardo Piñol with Pedro de Aycinena y Piñol as his godfather, much to the delight of the people there. Clark is buried in Frankfort Cemetery.