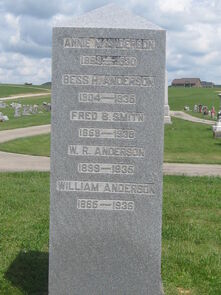 William "Bill" Anderson (January 19, 1865 – May 5, 1936) was an American professional baseball player who played in one game for the Louisville Colonels in 1889. In that game, he pitched a complete game, and surrendered nine earned runs in a loss to the Philadelphia Athletics.
As a hitter in that game, he collect a base hit in three at bats for a .333 batting average.
He was a brother-in-law to fellow Colonels player Scott Stratton. He died in 1936 at the age of 71, and is interred at Valley Cemetery in Taylorsville, Kentucky.