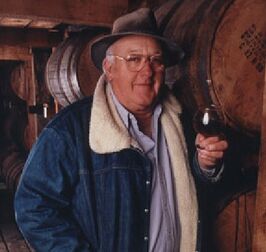 Frederick Booker Noe II (December 6, 1929 - February 24, 2004) was a bourbon master distiller.
Noe was born December 6, 1929 in Washington County. He was the grandson of Jim Beam and the sixth generation of his family to head the distillery that was founded in 1795.
In 1988 he released "Booker's Bourbon", a premium small batch bourbon, bottled directly from the barrel without filtering. That revolutionized the industry and led to the demand for "gourmet" bourbons.
Noe died February 24, 2004 at the age of 74 in Bardstown, Nelson County. He was buried in Bardstown City Cemetery.