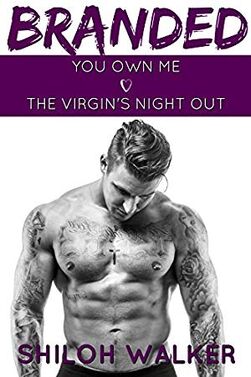 Branded is a novel written by Shiloh Walker. It was first published in 2015.
Description
Love leaves a mark.
Branded contains two of Shiloh's latest contemporary romances, previously only available in ebook
You Own Me
It had always been her... Ten years had passed since the doors slammed shut behind Decker Calhoun, taking away his freedom, but more importantly, locking him away from Elizabeth Waters, the only woman he'd ever loved - the woman he'd given up everything for. The day he was sentenced, he'd looked at her and said, No regrets, Lizzie. But he lied, because he did have one. Although he's been out of jail for three years now, he was a year too late. Lizzie never knew how he felt and just months before he was released, she found somebody else and it's too late. Or maybe not. It seems that Lizzie's boyfriend wants an open relationship and two can play at that game. Now all Decker has to do is convince Lizzie that he's the better man... and has been all along
The Virgin's Night Out
Sloane Redding is the shy one, the timid one. The morning of her wedding, she's dumped by the man she'd thought she'd spend the rest of her life with. Humiliated, she turns tail and runs, leaving Nowhere, Alabama for a job in the city. Sloane sets out to remake herself. She succeeds... on the outside. On the inside? Different story. She still the shy Redding. Still quiet, still more interested in standing on the standlines. But all of that is about to change.
The night before her brother's wedding, she strolls in the lone bar in Nowhere wearing wicked red and she's got one goal in mind: to show her ex-fiance just what he lost.
The night before his best friend's wedding, D.B. "Boone" Cassidy walks into the lone bar in Nowhere, Alabama with one goal in mind. Get wasted. Former military, he's spent the past few years as a security specialist and all around troubleshooter. It should have been easy to spot the trouble that night... a sexy woman in wicked red. It should have been easy. Yeah, right.
One thing leads to another and his plans to get wasted turn into a night with the sexy woman in red . Boone gets the shock of his life the next day when he shows up at his friend's wedding to find out he'd just spent the night wrapped around his best friend's little sister... and that isn't the only surprise.