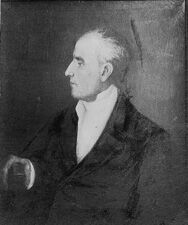 Buckner Thruston (February 9, 1763 – August 30, 1845) was a Democratic-Republican U.S. Senator from Kentucky, and later a long-serving United States federal judge.
Born in Gloucester County, Virginia, Thruston received an A.B. from the College of William & Mary at Williamsburg, Virginia. He read law and moved to Lexington, Kentucky (then a part of Virginia) in 1788. He was admitted to the bar and began the practice of law. He was a member of the Virginia assembly in 1789, resuming his private practice from 1791 to 1792.
After Kentucky was organized as a state, Thruston was elected clerk of the first Kentucky Senate in 1792. He was appointed one of Kentucky's three commissioners to settle the boundary dispute between the states of Kentucky and Virginia. He also served as a judge of the Kentucky State District Court in 1791, and as a judge of the Kentucky State Circuit Court from 1802 to 1803. He was also appointed the United States judge of the court of the Territory of Orleans in 1804, but declined the appointment. Instead, he maintained his private practice from 1803 to 1805.
Thruston was elected as a Democratic-Republican to the United States Senate and served from March 4, 1805, to December 18, 1809, when he resigned, having been appointed to a judicial position. He was nominated by President James Madison on December 12, 1809, to a seat on the United States Circuit Court of the District of Columbia vacated by Allen Bowie Duckett, and was confirmed by his colleagues in the Senate the following day. He received his commission on December 14, 1809 and served on the bench for over thirty-five years, from January 1810 until his death, in Washington, D.C., in 1845. He was interred in the Congressional Cemetery.
His son, Charles Mynn Thruston, was a politician and Union Army general.