The Sandman Will Keep You Awake - The Loop
Play Sound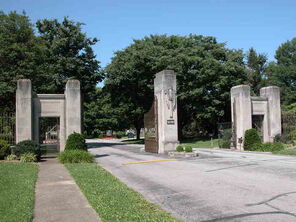 Calvary Cemetery, at 1600 Newburg Road, is operated by the Archdiocese of Louisville. It is obviously well-run. The hours are posted on the gate, and there are signs spelling out the rules of visiting and what kinds of flowers may be placed on the graves. Paved roads lead from the gate to the office and throughout the cemetery. The views and landscape are breathtaking. This is a beautiful cemetery, more park than graveyard. Many cemeteries have trees, but Calvary has color: red maple trees, magnolia trees, purple irises, and yellow wildflowers.
The sound of birds chirping and church bells ringing only added to the sense of harmony. There have been visitors every time I have been there. It is more akin to being in Cherokee Park than in a cemetery, and it was meant to be, based on the design concept of the "rural" cemetery. Popular from about 1830 to 1930, the rural cemetery featured landscaped grounds where people were encouraged to commune with nature and explore their spirituality.
The gravestones at Calvary are not just carved with religious iconography, they are actually in the shape of crosses and religious figures; some gravestones have stained glass panels. All of the gravestones are intact and upright. Many graves have not just flowers, but mementos and religious statues placed upon them. There is a feeling of equality and middle class values at Calvary.
Notable Interments
Rudy Hulswitt

Gus Weyhing