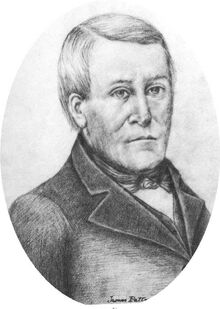 Captain James Patten (October 12, 1748 – December 29, 1815) was born in Augusta County, Virginia. He was a military figure, pioneer, and river pilot.
Patton arrived with George Rogers Clark's militia to what would eventually become Louisville in 1778. He was put in charge of building the first fort on shore after moving from the original fort on Corn Island.
In 1780 he participated with Colonel John Bowman and George Rogers Clark in strikes against the British allied Indians in Ohio.
He was the first licensed pilot authorized to navigate the Falls of Ohio.
His son-in-law Nathaniel Pryor was a member of the Lewis and Clark expedition.
Patten died December 29, 1815 in Jefferson County and is buried in Western Cemetery in Louisville.