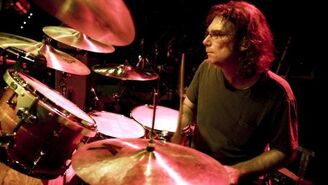 Chad Cromwell (born June 14, 1957) is an American rock drummer whose music career has spanned more than 30 years. He is possibly best known for his work with Neil Young, Mark Knopfler and Joe Walsh. He is the founding member of a band called Fortunate Sons, which released a self-titled album in 2004. He has worked with multiple prominent artists from various genres such as Joss Stone, Bonnie Raitt, and Crosby, Stills, and Nash.
Cromwell was born on June 14, 1957, in Paducah, Kentucky. When he was three years old he moved with his parents and siblings to Memphis, Tennessee in 1960. In 1970, he moved to Nashville, Tennessee, and remained there for the rest of his childhood.
He started playing drums at the age of eight, wearing headphones as he played along to records in an upstairs room of his parents' home. By the age of twelve he was playing in garage bands in the local neighborhood.
Cromwell started recording and touring with Joe Walsh in 1986, appearing on two albums, Got Any Gum? and Ordinary Average Guy.
In 1987, Cromwell began a collaboration with songwriter Neil Young. The initial sessions became Neil Young & The Bluenotes. Since then he has recorded and toured with Young on several occasions, and appears on albums such as Freedom (1989), Prairie Wind (2005) Living with War (2006) and Chrome Dreams II (2007). He has also appeared in Heart of Gold, a documentary capturing the debut of Neil Young's album, Prairie Wind (along with other Young classics). This was filmed at the Ryman auditorium and directed by Jonathan Demme.
Cromwell is also known for his contributions to Mark Knopfler's solo albums Golden Heart (1996), Sailing to Philadelphia (2000), The Ragpicker's Dream (2002) and Shangri-La (2004). He was also part of Knopfler's band during the tours of his first solo albums.
Cromwell toured with Crosby, Stills, Nash & Young in the summer of 2006.
He has also worked with many other artists including Dave Stewart, Vince Gill, Amy Grant, Lady Antebellum, Diana Krall, Willie Nelson, Jackson Browne, Boz Scaggs, Wynonna, Trisha Yearwood, Miranda Lambert, Bonnie Raitt, Peter Frampton, Allison Moorer, Chris Knight, Joss Stone, Rodney Crowell, Marty Stuart, and Stevie Nicks.
In the mid 2000s, Cromwell formed the band Fortunate Sons along with Michael Rhodes, Gary Nicholson, Kenny Greenberg, and Reese Wynans. They released a self-titled album in 2004. He is also a member of the occasional touring band, Big Al Anderson and The Balls, led by former NRBQ guitarist Al Anderson.
In 2012, he appeared on The Beach Boys' studio album entitled That's Why God Made the Radio. In 2013, he was featured on Bonnie Tyler's album, Rocks and Honey.
In 2014, he provided drums on Drake Bell's third studio album, Ready Steady Go!
He currently lives in both Nashville and Los Angeles with his wife, Windy.