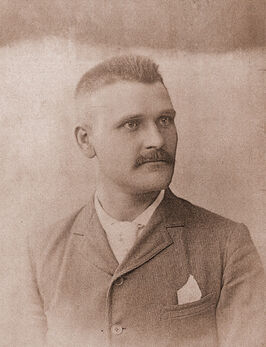 Charles M. Hamburg (November 22, 1863 – May 18, 1931) was a Major League Baseball left fielder in the 19th century. The Louisville, Kentucky native played for his hometown team, the American Association Louisville Colonels, in 1890.
Hamburg played major league ball for just one season, but it was a season to remember. He played in 133 of the Colonels 136 games, and they won the American Association championship with a record of 88-44-4. The Colonels went on to tie the National League Brooklyn Bridegrooms 3-3-1 in the 1890 version of the World Series.
Hamburg contributed significantly to his team's success with 3 home runs, 77 runs batted in, 93 runs scored, a .272 batting average, and an on-base percentage of .370. His 77 RBI were seventh in the league, and the 69 bases on balls he received ranked him tenth.
He died at the age of 67 in Union, New Jersey.