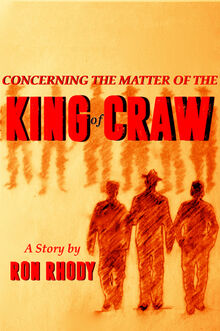 Concerning the Matter of King of Craw is a historical fiction novel written by author Ron Rhody. It was published July 21, 2016.
Description
He brooked no insult, would not be cheated, would not be pushed around. He bent a knee to no man. He was the King of Craw and the powers-that-be wanted him gone.
The story is set in the Roaring Twenties in Kentucky's Capital City. It spins around John Fallis, a legendary figure in Bluegrass folklore, and two boys who fall into his orbit.
A successful businessman, a political power, a gambler, a bootlegger, movie-star handsome, and charismatically compelling, John Fallis was the champion of the poor and powerless and the scourge of the Establishment.
The story begins just before the night of the The Big Shoot-Out when JF takes on the entire city police force and ends with his bullet-riddled body on a craps table in Craw in what was said to be a gambling fight – but what many believe was a hit ordered by powerful forces in the city.
Though this is a story, not a history, most of it happened. John Fallis, Craw, Crawfish Bottom are names that still resonate and questions about his death are still unanswered.
This is the first piece of fiction built around the man and the place. It is rich in action and drama, most particularly for readers drawn to the mystery of why men do the things they do, and to the never ending struggle between good and evil.
Whatever you ultimately decide about JF's place on that scale – and the particulars of his death – you won't be bored.