The Sandman Will Keep You Awake - The Loop
Play Sound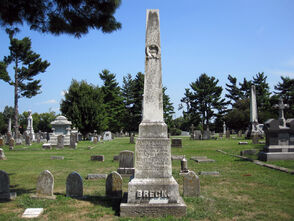 Daniel Breck (February 12, 1788 – February 4, 1871) was a member of the U.S. House of Representatives from Kentucky.
Daniel Breck (brother of Samuel Breck) was born in Topsfield, Massachusetts. He graduated from Dartmouth College in Hanover, New Hampshire, in 1812. He studied law, was admitted to the bar in 1814 and commenced practice in Richmond, Kentucky, in October of the same year. He was judge of the Richmond County Court. He was a member of the Kentucky House of Representatives from 1824 to 1827 and again in 1834. He was president of the Richmond branch of the State Bank of Kentucky from 1835 to 1843. He was appointed associate judge of the Supreme Court of Kentucky on April 7, 1843, and served until 1849.
Breck was elected as a Whig to the Thirty-first Congress. He returned to Richmond, Kentucky, and again served as president to the Richmond branch of the State bank. He died in Richmond on February 4, 1871 and is buried at the Richmond Cemetery.