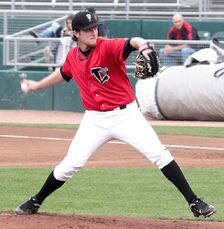 Robert Wyatt McDaniel Webb (August 18, 1989 – October 14, 2017) was an American professional baseball pitcher. He played in Major League Baseball (MLB) for the Chicago White Sox from 2013 through 2016.
Webb attended Heath High School in Paducah, Kentucky. The Arizona Diamondbacks selected him in the 12th round of the 2008 Major League Baseball draft, but he did not sign with Arizona. Webb attended Northwest Florida State College. He was then drafted by the Toronto Blue Jays in the 18th round of the 2009 Major League Baseball draft.
On January 1, 2012, the Blue Jays traded Webb and Myles Jaye to the Chicago White Sox for Jason Frasor. Webb was called up to the majors for the first time on September 2, 2013.
Webb had Tommy John surgery in June 2016. The White Sox released him on November 3, 2016.
On October 14, 2017, Webb died in an all-terrain vehicle (ATV) accident in Humphreys County, Tennessee. Webb's newlywed wife and two others sustained what the sheriff described as "significant injuries". He was buried in Maplelawn Park Cemetery in Paducah, McCracken County.