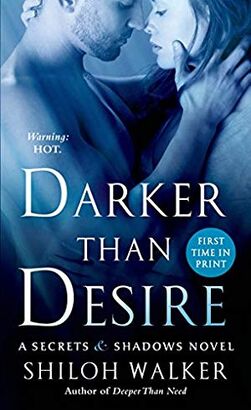 Darker than Desire is a novel written by Shiloh Walker. It was first published in 2015.
Description
LUST FOR LIFE
No matter how many times he's left her in the past, Sybil Chalmers can't ignore her feelings for the one man who stole her heart years ago. For countless nights, she has waited for him--for his kiss, his touch-and has longed for him to emerge from the shadows of his past. Only when she is in his arms does Sybil really feel alive...and finally, after all these years, that time is now. A DEADLY DESIRE
He's a man raised in a world of strict rules and unbreakable traditions and he's always yearned to break free. But when a family tragedy lures him back home, he finds his one true passion has been there all along. With Sybil, he can explore his greatest potential-and allow her to discover a whole new level of ecstasy. But will a long-buried secret threaten to tear them apart? The only thing he knows for sure is that he will do anything to keep Sybil in his life...and keep her coming back for more...in Darker Than Desire by Shiloh Walker.