Jurassic World: Dominion Dominates Fandom Wikis - The Loop
Play Sound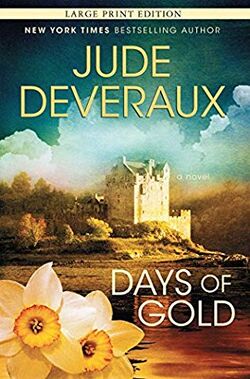 Days of Gold is a novel written by Jude Deveraux. It was first published in 2009.
Description
In 1766 Scotland, the laird of the clan, Angus McTern, has everything he wants in life. Although his grandfather lost the family's land and castle in a card game when Angus was just a boy, Angus takes his duties seriously and is respected by all the men and adored by the women. That is, until Edilean Talbot shows up.
Breathtakingly beautiful and born of privilege, Edilean represents everything Angus despises. Still he is as dazzled by her as everyone else is, and he can keep his feelings hidden from her for only so long. When she rejects him he is deeply wounded and, worse, humiliated before his clan. But then the day comes when Edilean needs Angus's help, to reclaim the gold she inherited from her father, which is on its way to America. At first Angus refuses, but her beauty -- and her tears -- so haunt him that he puts aside his pride and decides to aid the heiress. However, when Angus tries to intervene, he's accused of kidnapping and theft. To avoid being prosecuted, he's forced to leave behind all that he knows and loves and escape with Edilean to America. There they will overcome almost insurmountable obstacles as they are pursued endlessly by the man who claims the gold for his own. Despite all that tries to keep them apart, Angus and Edilean also find a love as wild and free as the land itself.
The second book in the multigenerational Edilean Series that began with Lavender Morning, Days of Gold is filled with passion, humor, exquisite detail, and pulse-pounding adventure. Stirring and masterfully rendered, this is Jude Deveraux at her best.