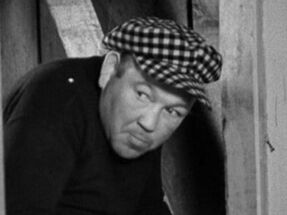 Richard Louis "Fighting Dick" Gilbert (July 12, 1889 – May 6, 1960), was a boxer and an actor.
Gilbert was born July 12, 1889 in Knox County.
From 1907 - 1916 he was a professional boxer. He had a 16-22-5 record, the highlight being the October 16, 1916 10-Round loss on points to the much larger Jack Dempsey. Dempsey was 6'1" and Gilbert was 5'7.5".
As an actor, Gilbert was mainly associated with the Hal Roach Studios, where he appeared in numerous Our Gang and Laurel and Hardy comedies. He appeared in 52 films between 1922 and 1951.
He died May 6, 1960 in Goldfield, Nevada, at the age of 70. He was buried in Goldfield Cemetery.
Filmography