We're Getting Mutants in the MCU - The Loop
Play Sound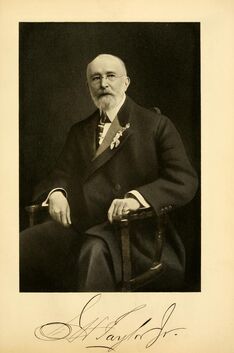 Edmund Haynes Taylor, Jr. (February 12, 1830 - January 19, 1923) was a bourbon pioneer, mayor and state representative. He was also the grandson of President Zachary Taylor.
E. H. Taylor was born February 12, 1830 in Frankfort, Franklin County. He started and owned seven different distilleries throughout his career, the most successful being the O.F.C. and Carlisle distilleries, the forerunners of today's Buffalo Trace Distillery.
E. H. Taylor is said to have lobbied in favor of the Bottled-in-Bond Act, a law that gave participating whiskey producers a tax break and a government certification of product quality. He was a contemporary of and acquaintance with various other notable whiskey business figures as Dr. James C. Crow, Oscar Pepper, Judge William B. McBrayer, John H. McBrayer and W. F. Bond, and was an adept businessman and public relations professional when it came to packaging and promoting his bourbon.
Unlike most distilleries of the time that looked like little more than a sawmill sitting in a thicket, Taylor's distillery on Glenn's Creek, near Frankfort, was designed to resemble a medieval castle with the landscaped grounds of an estate. The distillery attracted tourists and picnickers who were given complimentary "tenth pint" bottles of Old Taylor.
In the late 1940s, Old Taylor bourbon was promoted with the slogan, "Sign of a good host".
By 1972, the historic "castle" distillery structure had been abandoned, and it remained abandoned but still standing in deteriorating condition for more than 40 years. Some of the material from the barrel houses was reclaimed for construction. The facility was refurbished starting in 2015, and began operating as a distillery again in 2016 as Castle and Key Distillery. The new distillery operation is not affiliated with the current owners of the Old Taylor brand.
From 1871 to 1877 and from 1881 to 1890 Taylor was elected Mayor of Frankfort. He was elected as a member of the Kentucky state senate for the 20th district from 1902 to 1904.
He died January 19, 1923 at the age of 92 in Frankfort and was buried in Frankfort Cemetery.