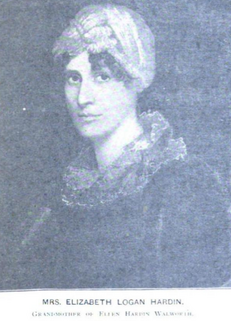 Elizabeth Logan Hardin (April 3, 1786 - February 19, 1853) was born April 3, 1786 in Franklin County, Kentucky to Benjamin Logan and Ann Montgomery.
She married Martin Davis Hardin January 20, 1809. Together they had three children: Lucy Jane, John Jay, and Charles. After Martin died, Elizabeth married Edwin Porter Clay.
Elizabeth died February 19, 1853 in Shelby County, Kentucky and was buried in Grove Hill Cemetery.