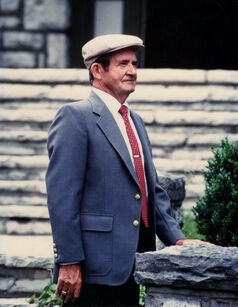 Elmer T. Lee (August 5, 1919 - July 16, 2013) was born in Peaks Mill, Franklin County.
Throughout his many years of work he became plant manager and master distiller of the Buffalo Trace Distillery. He retired in 1985 and was bestowed Master Distiller Emeritus in addition to having a namesake bourbon. He introduced the world's first single-barrel bourbon, Blanton's, named in honor of former distillery president Albert B. Blanton. He was awarded numerous honors after his retirement.
He was a World War II veteran and belonged to VFW Post 4075. He was a member of the First Christian Church, Kentucky Order of Colonels, the 315th Bomb Wing Association and the Masonic Lodge, Hiram No. 4. He had served on the Board of Directors at First Christian Church, the Chamber of Commerce, the Red Cross, YMCA, Junior Achievement and the Frankfort Country Club.
Lee died in Frankfort July 16, 2013 at the age of 93 and was buried in Sunset Memorial Gardens in Woodford County.