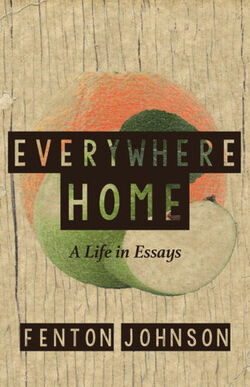 Everywhere Home: A Life in Essays is a book written by Fenton Johnson. It was first published in 2017.
Description
Part retrospective, part memoir, Fenton Johnson's collection Everywhere Home: A Life in Essays explores sexuality, religion, geography, the AIDS crisis, and more. Johnson's wanderings take him from the hills of Kentucky to those of San Francisco, from the streets of Paris to the sidewalks of Calcutta. Along the way, he investigates questions large and small: What's the relationship between artists and museums, illuminated in a New Guinean display of shrunken heads? What's the difference between empiricism and intuition?
The collection draws together essays that originally appeared in Harper's, The New York Times, All Things Considered and elsewhere, along with new work. Johnson reports from the front lines of the AIDS epidemic, from Burning Man, from monasteries near and far. His subject matter ranges from Oscar Wilde to censorship in journalism to Kentucky basketball.