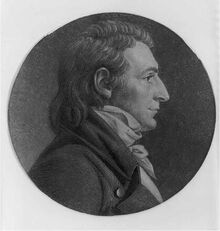 George Michael Bedinger (December 10, 1756 – December 7, 1843) was a U.S. Representative from Kentucky and uncle of Henry Bedinger.
Born in Hanover, Pennsylvania, Bedinger attended an English school. He moved to Virginia about 1762 and to Kentucky in 1779 and settled at Boonesborough. During the American Revolutionary War, he served as adjutant in John Bowman's expedition against Chillicothe in May 1779. He returned to Virginia and served at the siege of Yorktown, and therefore missed the Battle of Blue Licks in Kentucky.
During the Northwest Indian War, he was a major in Drake's Regiment in 1791, a major commanding the Winchester Battalion of Sharpshooters in the St. Clair expedition in 1791, and a major commanding the Third Sublegion of the United States Infantry from April 11, 1792, to February 28, 1793.
He served as member of the State house of representatives of the first legislature of Kentucky in 1792. He served in the State senate in 1800 and 1801.
Bedinger was elected as a Democratic-Republican to the Eighth and Ninth Congresses (March 4, 1803 – March 4, 1807). He engaged in agricultural pursuits. He died at Blue Licks Springs, Kentucky, December 7, 1843. He was interred in the family cemetery on his farm near Lower Blue Licks Springs, Kentucky.