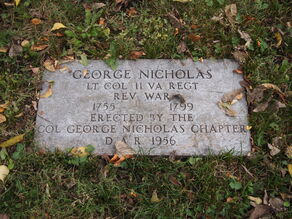 George Nicholas (c. 1755 – July 25, 1799) was born in 1755 in Williamsburg, Virginia. He was the first professor of law at Transylvania University in Kentucky. He was also the first attorney general of Kentucky in 1792, and had been several times a member of the Virginia House of Delegates.
During the Revolutionary War, Nicholas was the Lieutenant Colonel in the eleventh Regiment of the Virginia Line in the Continental Army.
As Kentucky's first Attorney General in 1792, he was credited with largely writing Kentucky's first Constitution.
He was the son of Robert C. Nicholas, Sr.; his brothers included Wilson Cary Nicholas. He was the father of Robert C. Nicholas. He was a friend and correspondent of James Madison; he was also extremely obese, and Madison laughed until he cried at a caricature of Nicholas, during the Virginia convention to ratify the United States Constitution, as a plum pudding with legs.
Nicholas died July 25, 1799 in Lexington, Kentucky. He was buried in the Old Episcopal Third Street Cemetery in Lexington.
Nicholas County, Kentucky and Nicholasville, Kentucky are both named for him.