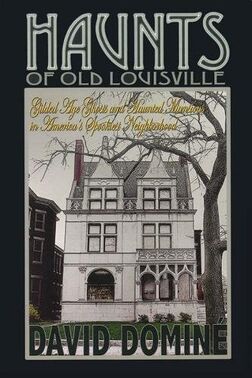 Haunts of Old Louisville: Gilded Age Ghosts in America's Grandest Victorian Neighborhood is a book written by David Dominé. It was first published in 2009.
Description
Old Louisville in Louisville, Kentucky, is the third-largest National Preservation District in the United States and the largest Victorian-era neighborhood in the country. Beneath the balconies and terraces of the district's Gothic, Queen Anne, and Beaux Arts mansions, current residents trade riveting stories about their historic homes. Many of these tales defy rational explanation. When David Dominé moved into one of these houses, he dismissed local rumors of a resident poltergeist named Lucy. However, before long, unnerving, disembodied footsteps and mysterious odors caused him to flee his home in the middle of the night.
Since that night, Dominé has not only opened his mind to the idea of paranormal phenomena but also turned it into popular tours and a bestselling collection of books, which have brought new attention to this iconic neighborhood. In Haunts of Old Louisville, he takes readers inside the opulent Ferguson Mansion―where a phantom tosses books off shelves―and introduces them to the spectral stable hand who lurks around Campion House. He also examines historic tales pulled out of the headlines and even explores the claim that a winged demon haunts the ornate towers of Walnut Street Baptist Church. These tales of things that go bump in the night not only reveal why Old Louisville is considered the "most haunted neighborhood in America," but also help to preserve this historically and architecturally significant community.