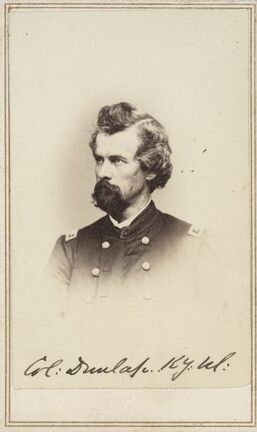 Henry Clay Dunlap (April 14, 1828 - September 9, 1872) was a Civil War Union Brevet Brigadier General.
Dunlap was born April 14, 1828 in Fayette County, Kentucky to John R. Dunlap and Emily Boyce. He was an 1847 graduate of Jefferson College on Canonsburg, Pennsylvania, he set up a successful law practice in Kentucky, and also became a gentleman farmer.
When the Civil War began he offered his services to the Union, and was commissioned 1st Lieutenant and Regimental Adjutant of the 5th Kentucky (Union) Volunteer Infantry on July 31, 1861. He participated in the April 1862 Battle of Shiloh, Tennessee he was transferred to the 3rd Kentucky (Union) Volunteer Infantry, and commissioned as Captain and commander of the regiment's Company A on May 26, 1862. He led his men in the December 1862-January 1863 Battle of Murfreesboro, Tennessee, where the regiment's commander was killed in action. By April 1863 the next regimental commander resigned, and Henry Clay Dunlap was commissioned Colonel on April 9, 1863 to lead the 3rd Kentucky Infantry. He would go on to command the regiment through all its successive engagements, participating in the September 1863 Battle of Chickamauga, Georgia, and the November 1863 Battle of Missionary Ridge, Tennessee, where after heavy fighting he was the first man to plant the United States flag on top of the ridge. He was honorably mustered out of service on October 13, 1864, and was brevetted Brigadier General, US Volunteers on March 13, 1865 for "gallant and meritorious services during the war".
He returned home to find his farmland had been devastated by the war, but was saved from ruin when President Ulysses S. Grant appointed him as a revenue inspector in Kentucky's Nelson County.
In September 1872 he was discharging his duties inspecting a distillery when he discovered violations. A confrontation with the distillery owner resulted in the owner hitting Henry C. Dunlap in the head with a pistol. He would later die a short time of a fractured skull and brain fever caused by the altercation.
He was buried in Lexington Cemetery in Lexington, Kentucky.