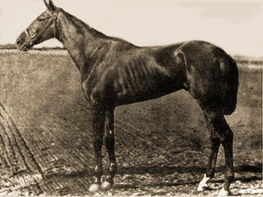 Hindoo (1878–1901) was an outstanding American Thoroughbred race horse who won 30 of his 35 starts, including the Kentucky Derby, the Travers Stakes, and the Clark Handicap. He later sired Preakness Stakes winner Buddhist and Belmont Stakes winner and Leading sire in North America Hanover.
He was a bay colt bred by Daniel Swigert of Elmendorf Farm in Fayette County, Kentucky. Hindoo was sired by Virgil (sire of the Kentucky Derby winners, Vagrant and Ben Ali). His dam, Florence, was by the great racehorse and sire Lexington. He was a brother to Florida, who was the dam of the very good racemare Firenze, who won 47 of her 82 starts.
He was trained by future Hall of Fame inductee Edward D. Brown. Hindoo was sold for $15,000 during his two-year-old season to the Dwyer Brothers Stable of Mike and Phil Dwyer, and his training was taken over by another future Hall of Fame inductee, James G. Rowe, Sr.
Hindoo was a 3-1 favorite heading into the 1881 Kentucky Derby. Ridden by Jim McLaughlin, when the race started, Hindoo, as expected, took the lead. Then, at the halfway pole, Lexex took the lead. As the horses went into the turn, Hindoo regained the lead, and when he entered the stretch he was in command and won by four lengths going away.
On September 1, 1881, Hindoo won his 19th consecutive race in a purse event at Sheepshead Bay Race Track. His winning streak ended six days later when he finished third in the September Handicap at Sheepshead.
Hindoo also won: Colt and Filly Stakes, Alexander Stakes, Tennessee Stakes, Juvenile Stakes, Jockey Club Stakes, Criterion Stakes, Tremont Hotel Stakes, Blue Ribbon Stakes, Clark Stakes, Tidal Stakes, Coney Island Stakes, Ocean Stakes, Lorillard Stakes, Monmouth Sweepstakes, Travers Stakes, Sequel Stakes, United States Hotel Stakes, Kenner Stakes, Louisville Cup, Merchants' Stakes, Turf Handicap, Coney Island Handicap, Coney Island Cap, Coney Island Cup, Champion Stakes, Jersey Stakes, and Leger Stakes.
He placed second in the Day Boat Line Stakes, Brighton Beach Cap, and Dixiana Stakes. Hindoo finished third in the Windsor Hotel Stakes and the September Cup.
In thirty five starts, Hindoo was never out of the money. He won thirty times, was second three times, and was third twice. As a three-year-old, he won the 1881 Kentucky Derby in a season where he recorded eighteen straight wins over the course of a few months— nineteen if a dead-heat run-off on the same day is counted. Over the course of his racing career, he won $71,875, making him America's leading money earner. In 1881, he was America's Champion Three-Year-Old Male.