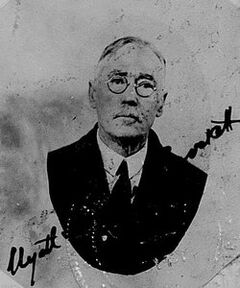 Wyatt Ingram Crockett (February 10, 1856 - October 5, 1936) was an American poet and journalist.
Crockett was the son of John Watkins Crockett, a member of the Confederate Congress in Kentucky, and Louisa M. Ingram. Educated at public schools in Henderson, Crockett never went to college. On May 17, 1887 he married Mary Cameron Stites (1864–1955) and continued to play a prominent part in the business and public affairs of Henderson. With the exception of A brother of Christ, a novel about Kentucky Christadelphians, Crockett's literary output for magazines and in published collections was poetical. "One does not have to travel far in any direction today in order to find many persons declaring that Ingram Crockett is the finest poet living in the state today"
He and his wife were buried in Fernwood Cemetery, Henderson.
Bibliography