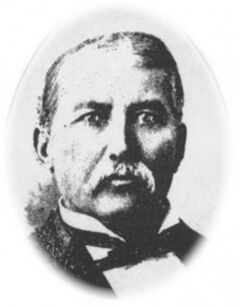 John Henry "Jack" Beam (December 1839 - 1915) was a bourbon master distiller.
He was born in December of 1839 in Mooresville, Washington County. He was the youngest son of David Beam and brother of David M. Beam. He was a bourbon master distiller.
Jack worked at his father's distillery until he was 21. He built his own distillery, named Early Times, in Bardstown in 1860. It was successful until 1880 during the financial panic. He lost financial control of the distillery but remained as the master distiller until his death in 1915 at the age of 75. Jack's only child, Edward, worked there and was intended to take over the distillery, but he too died in 1915, at the age of 42.
Brown-Forman acquired the Early Times brand and built a new distiller in Shively in 1955. He is buried in Bardstown City Cemetery.