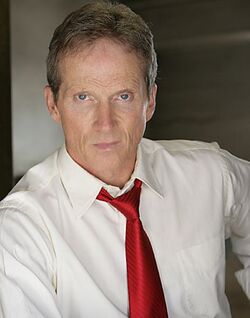 James Horan (born December 14, 1954 in Louisville, Kentucky) is a character actor.
Horan has appeared in many television programs and films. He has starred in several soap operas, including Guiding Light as Detective Kirk Winters in 1980–1981, Another World as Denny Hobson (1981–1982), General Hospital as Brett Madison (1985–1987), and All My Children as Creed Kelly (1988–1989). In 1982, Horan subbed for Larkin Malloy who had been injured in a car accident, playing Sky Whitney on The Edge of Night while Malloy recuperated. Years later, Horan originated the role of Clay Alden on Loving, playing that part from 1989 to 1991. When the role was recast several years later, Malloy assumed the role.
Horan also appeared in four of the Star Trek spin-off series. He appeared twice in Star Trek: The Next Generation in 1993, first as an alien named "Jo'Bril" in the episode "Suspicions", and later as "Lieutenant Barnaby" in the episode "Descent". In 1997, he appeared on Star Trek: Voyager as "Tosin" in the episode "Fair Trade" and on Star Trek: Deep Space Nine as a Jem'Hadar named "Ikat'ika" in the episodes "In Purgatory's Shadow" and "By Inferno's Light". Horan had a recurring role in the first two seasons of Star Trek: Enterprise as the enigmatic figure whom fans called "Future Guy".
Horan's television guest appearances include roles on Werewolf, Remington Steele, Zorro, Melrose Place, Lost and Highlander: The Series. Recently, he appeared on a season 6 episode of 24.
In addition to his television and film work, Horan has provided voices for several video games, including several Star Trek and Star Wars games. He also provided the voice for the antagonist Skull Face in Metal Gear Solid V. In 2012, he appeared as the sheriff in commercials for 5-hour Energy.