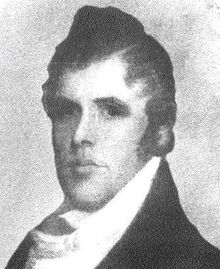 James Johnson (January 1, 1774 – August 13, 1826) was a U.S. Congressman.
Elected as a Jacksonian to represent Kentucky's 5th District in the Nineteenth Congress, he served from 1825 until his death.
Johnson was born in Orange County, Virginia. He moved with his father to Kentucky at age five. His first political office was as a member of the Kentucky State Senate (1808).
Johnson served as a Lieutenant Colonel during the War of 1812 and was later an independent contractor furnishing supplies to army troops on the western frontier. In 1820 he was a presidential elector on the Monroe-Tompkins ticket.
He died in Washington DC, six months shy of completing his first term in the House of Representatives; there is a cenotaph in his memory at the capital's Congressional Cemetery.
Johnson was the older brother of Richard Mentor Johnson, who was US Vice President under Martin Van Buren, and US Congressman John Telemachus Johnson. His nephew, Robert Ward Johnson, served first in the US Senate and then as a Confederate Senator during the Civil War.
Johnson is buried in the Johnson Family Cemetery in Scott County, Kentucky.