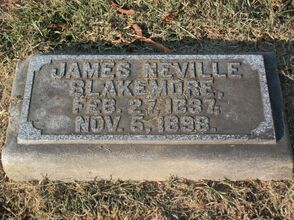 James Neville Blakemore (February 27, 1837 - November 5, 1898) was a farmer and a bourbon distiller.
Blakemore was born February 27, 1837. He married Mary Lillard and had two daughters.
He was a successful farmer in Franklin County. Enough so that he was wealthy enough to start up the Arnold's Spring Distillery. It was large enough to merit 5 warehouses.
He died November 5, 1898 in Frankfort, Franklin County. Among his honorary pall-bearers was Colonel E. H. Taylor. Blakemore was buried in Frankfort Cemetery.
After Blakemore's death, his distillery was bought out and dismantled.