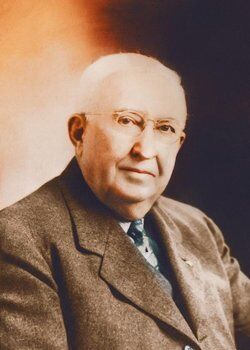 James Beauregard "Jim" Beam (August 25, 1864 - December 27, 1947) was a businessman, bourbon distiller and folk legend.
Beam was born August 25, 1864 in Nelson County to David M. Beam and Margaret Ellen Phillips.
Jim Beam turned the family bourbon business into an american industry. Under Jim, the business thrived despite prohibition. Jim left the distilling business to grow citrus in Florida, among other things. When prohibition ended in 1934 Jim was ready to fire up the still. He built and moved to a new distillery near his home which is the current location in Clermont.
The James B. Beam Distilling Company was founded in 1935 by Harry L. Homel, Oliver Jacobson, Harry Blum, and Jeremiah Beam. From this point forward, the bourbon would be called "Jim Beam Bourbon" after James Beauregard Beam, and some of the bottle labels bear the statement, "None Genuine Without My Signature" with the signature James B. Beam. In 1945, the company was purchased by Harry Blum, a Chicago spirits merchant. The Beam company was purchased by American Brands in 1968.
Beam died December 27, 1947, at the age of 83, in Bardstown, Nelson County. He was buried in Bardstown City Cemetery.