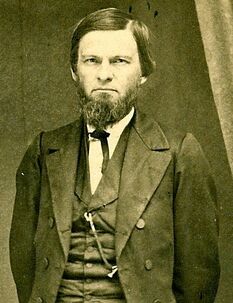 John Albert Broadus (January 24, 1827 – March 16, 1895) was an American Baptist pastor and President of the Southern Baptist Theological Seminary.
Born January 24, 1827 in Culpeper County, Virginia, Broadus was educated at home and at a private school. He taught in a small school before completing his undergraduate studies at the University of Virginia in Charlottesville, Virginia. Broadus married Charlotte Eleanor Sinclair (1836–1913) on January 4, 1859.
Broadus was ordained in 1850 and became pastor of the Baptist church in Charlottesville. He delivered a lecture at the University of Virginia in memorial to Professor Gessner Harrison in 1873. A decade later, in 1883, he delivered an address on the Confederate cause at Louisville's Cave Hill Cemetery. That was an important part of reunion, as he argued that both sides were partly correct in their positions that led to war.
In 1859, Broadus became professor of New Testament interpretation and homiletics at the new Southern Baptist Theological Seminary. During the American Civil War, he served as a Confederate chaplain to Robert E. Lee's army in Northern Virginia. In 1888, he became Southern Seminary's second president.
In 1889, Broadus delivered the Beecher Lectures at Yale Divinity School. Broadus died March 16, 1895 in Louisville. He was buried in Cave Hill Cemetery.
Charles Spurgeon called Broadus the "greatest of living preachers." Church historian Albert Henry Newman called Broadus "perhaps the greatest preacher the Baptists have produced."
Bibliography