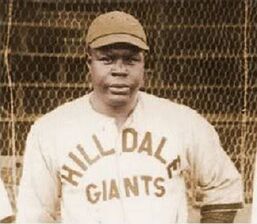 John Christopher Beckwith (January 10, 1900 – January 4, 1956), nicknamed The Black Bomber, was an American infielder in baseball's Negro Leagues.
Born January 10, 1900 in Louisville, Kentucky, he ranked among the Negro Leagues' career leaders in batting average, home runs, RBI and slugging percentage (.587).
The right-handed Beckwith battled fellow Negro League third baseman Jud Wilson for supremacy at that position during the 1920s. For the years he didn't play third, he was also an All-Star shortstop, though much of his value and playing time occurred at third base. Defensively, it appears that he was steady with the glove based on anecdotal evidence, though not outstanding.
Beckwith died January 4, 1956 in New York City, six days before his 56th birthday.