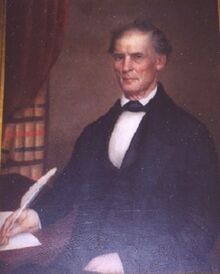 John Boyle (October 28, 1774 – January 28, 1835) was a United States federal judge and a member of the U.S. House of Representatives.
Born in Botetourt County, Virginia, near what is now Castlewood, Boyle moved with his father to Whitley's Station, Kentucky (a settler's fort near present-day Crab Orchard) in 1779. Boyle was educated by private tutors and in private schools. He read law in 1797 and began private practice in Lancaster, Kentucky from 1797 to 1802. He was also the deputy counselor at law for the Court of Quarter Sessions of Kentucky in 1797, and a member of the Kentucky House of Representatives in 1800.
Boyle was elected as a Democratic-Republican to the Eighth, Ninth, and Tenth U.S. Congresses (March 4, 1803 - March 4, 1809). He was one of the managers appointed by the House in January 1804 to conduct the impeachment proceedings against John Pickering, and, in December of the same year, against Samuel Chase. He was chairman of the Committee on Public Land Claims in the Ninth and Tenth Congresses. Boyle was appointed Governor of the Illinois Territory in 1809, but declined the office.
Boyle served as a judge of the Kentucky Court of Appeals from April 1809 to April 1810, serving as chief justice from April 1810 to November 8, 1826. His tenure spanned the Old Court-New Court controversy. He resigned to accept a recess appointment from President John Quincy Adams on October 20, 1826, to the United States District Court for the District of Kentucky, filling the seat vacated by the elevation of Robert Trimble to the Supreme Court of the United States. Boyle was officially nominated on December 13, 1826, was confirmed by the United States Senate on February 12, 1827, and received his commission the same day. He served until his death in his home near Danville, Kentucky in 1835. He is buried in Bellevue Cemetery there, and Boyle County, Kentucky was later named after him.