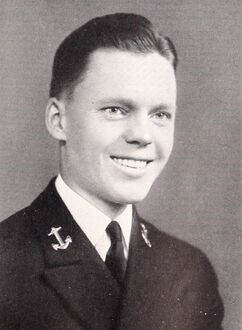 John Henry Clagett (April 6, 1916 - November 5 2013) was a World War II veteran, educator and author.
Clagett was born on April 6, 1916, son of William Argo and Sena Ballard Clagett, in Bowling Green, Ky. He went on to college and entered the Naval Academy in 1936. During W.W.II, he was appointed Lt. Cmdr. of the PT 111, which was shelled and destroyed during an attack at Guadalcanal on Feb. 1, 1943. During his long convalescence from the severe burns from Guadalcanal, he met and married Marjorie Douglas.
After his Naval career, he joined the Foreign Service and was sent to Norway. Upon their return to the United States, John received his Doctorate degree from Yale University. From 1955 to 1978, he taught at Middlebury College, where he attained full professorship. During this time he published 19 books, fact and fiction, adult and juvenile.
Clagett died November 5 2013 in Vermont. He was buried in the United States Naval Academy Cemetery in Annapolis, Maryland.
Bibliography