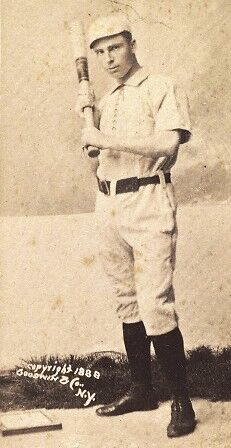 John Nelson Kerins (July 15, 1858 – September 19, 1919) was an American Major League Baseball player born in Indianapolis, Indiana, who played mainly at first base, but played significant time at catcher. John began his major league career with the 1884 Indianapolis Hoosiers of the American Association. After the season, the Hoosiers folded, and John moved on to the Louisville Colonels, where he spent the next four full seasons, and one partial season in 1889. He finished that season off with the Baltimore Orioles, then played his last season in 1890 for the St. Louis Browns.
In addition to playing, twice he was named interim manager, once each with the Colonels in 1888 and in his one season with the Browns. He also umpired a total of 246 major league games, mostly in the American Association from 1889 to 1891.
John died in Louisville, Kentucky at the age of 61, and was buried at Cave Hill Cemetery in Louisville.