The Sandman Will Keep You Awake - The Loop
Play Sound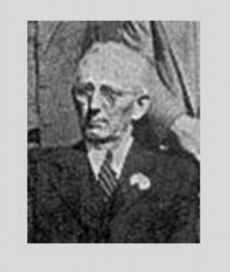 Joseph Lloyd "Mr. Joe" Beam (April 9, 1868 - November 13, 1956) was a master distiller.
Beam was born April 9, 1868 to distiller Joseph M. Beam. He was the great grandson to Jacob L. Beam and first cousin to Jim Beam.
Between the ages 13 to 30, Joseph worked at a number of distilleries in Bardstown learning the trade. He married Katherine McGill and between them had nine sons, seven of which went on to work in the bourbon industry.
During prohibition, Beam moved his family to Juarez, Mexico and served as a master distiller at a tequila plant. In the late 1920s he and several of his sons moved to Louisville to make medicinal whiskey at the A. Ph. Stitzel Distillery.
In 1933 after prohibition ended, Beam helped open the Heaven Hill Distillery. They filled their first barrel of bourbon on December 13, 1935 and in 1938 their first brand Bourbon Falls hit the shelves. Cash strapped, he sold out the distillery to the Shapira brothers.
Beam's son, Henry M. Beam became the Heaven Hill's first master distiller. Since then Earl Beam, Parker Beam, and Craig Beam took over. The master distillers were all Beams until Denny Potts was hired in August of 2018.
Joseph Beam moved around to different distilleries after being bought out. He and two of his sons, Roy M. Beam and Desmond A. Beam worked at Four Roses, and distilleries in Frankfort and Louisville.
Joseph Beam died November 13, 1956 in Bardstown, Nelson County. He's buried in Saint Joseph Cemetery in Bardstown.