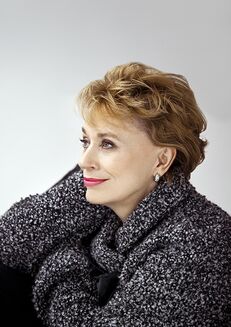 Jude Deveraux (born September 20, 1947 in Fairdale, Kentucky as Jude Gilliam) is an American author who is well known for her historical romances. As of 2016, more than 40 of her novels have been on The New York Times Best Seller list, including among the dozens such titles as A Knight in Shining Armor and Remembrance. Deveraux, who was described as "a popular romance author" by The New York Times, wrote "A Girl From Summer Hill," a contemporary take of Jane Austen's Pride and Prejudice in 2016. Deveraux appeared as herself in the 1987 romance novelist documentary Where the Heart Roams. In 2009, she was one of four authors who produced works for the debut of Vook, a company which produces "video books" by combining text, video and internet links into a single experience.
Known for her historical romances with storylines centered on strong, capable heroines, Deveraux has written stories set in later time periods, including post-Revolutionary America, nineteenth century Colorado, and nineteenth century New Mexico. She has written several time-travel romances, and her latest novels have had a contemporary setting. Many of her more recent books feature paranormal storylines.
Many of her books follow the Montgomery and Taggert families and contain recurring characters.
Bibliography