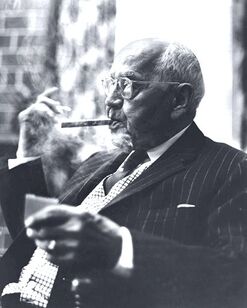 Julian Proctor "Pappy" Van Winkle, Sr. (March 22, 1874 - February 16, 1965) was born in Louisville, Jefferson County.
He was known as "Pappy" Van Winkle and is the namesake to the premium bourbon of the same name. In 1893, when he was 18 years old, Van Winkle began working as a salesman for the liquor wholesaler, W.L. Weller & Sons. Fifteen years later, he and another Weller salesman bought the firm. In 1910 they acquired the A. Ph. Stitzel Distillery in Louisville, Kentucky, which had started as a sour mash whiskey distillery in 1872.
The Stitzel Distillery supplied much of the whiskey sold by the Weller wholesale firm. The consolidation coincided with prohibition, during which time the Stitzel-Weller firm was licensed by the government to produce whiskey for medicinal purposes. One of their labels that was introduced on the market just before prohibition was Old Rip Van Winkle. After prohibition, the brand was not reintroduced until after 1972 when the Stitzel-Weller distillery and its current brand names (including W. L. Weller, Old Fitzgerald, Rebel Yell, and Cabin Still) were sold to other companies. The only brand name the Van Winkle family had kept the rights to was the pre-prohibition brand Old Rip Van Winkle.
The Stitzel-Weller Distillery was opened on the day of the Kentucky Derby in 1935, just outside Louisville in Shively, Kentucky. At the time of his death in 1965 at the age of 89, Pappy Van Winkle was the oldest active distiller in the nation. A photo of him lighting a cigar graces the bottle's label.
He once served as Kentucky Secretary of State.
He died, February 16, 1965 in Louisville was buried in Cave Hill Cemetery.