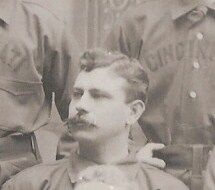 Clarence Geoghan "Kid" Baldwin (October 1, 1864 – July 10, 1897) was a Major League Baseball catcher.
Baldwin was born October 1, 1864 in Newport, Kentucky.
He played seven seasons at the Major League level. In addition to playing catcher, Baldwin also played outfield, third base, second base and first base. He also pitched two games in the 1885 season. He played well until the mid-August collapse of the Pacific Northwest League. He batted .221 over his career with 7 home runs and 178 RBI.
On June 2, 1897, Baldwin was committed to Longview Insance Asylum by Judge Ferris of the Probate Court. According the The New York Times, Baldwin was a "hopeless wreck from dissipation" and was not given hope to live long. Baldwin died July 10, 1897 at the age of 32. He was buried in Longview Hospital Cemetery in Roselawn, Ohio.