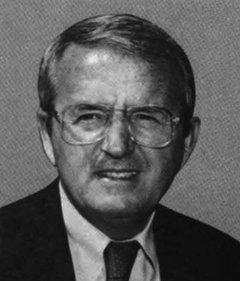 Larry Jones Hopkins (born October 25, 1933) is an American politician who represented Kentucky's 6th congressional district in the United States House of Representatives from 1979 to 1993. He was the Republican nominee for Governor of Kentucky in 1991 and lost to Brereton Jones. He is the son of Glenn and Martha Hopkins and the father of actor Josh Hopkins.
Hopkins attended public schools in Wingo, Kentucky and Murray State University. He served in the United States Marine Corps from 1954 to 1956 and was a stockbroker with Hilliard Lyons. Hopkins served as Fayette County Clerk before being elected to the Kentucky House of Representatives 1972–1976 and the Kentucky Senate 1976–1978. He served in the United States House of Representatives January 3, 1979 – January 3, 1993. His principal committee assignment in Congress was Armed Services, where he was a principal House cosponsor of the Military Reorganization Act of 1987. In 1991, Hopkins ran for governor and defeated Larry Forgy in the Republican primary. Hopkins lost the general election to Brereton Jones who polled 540,468 votes (64.7%) to Hopkins' 294,452 (35.3%).
While Kentucky Republicans had been competitive in the Gubernatorial races of the era, Hopkins overwhelming loss was in part due to controversy over his service in the U.S. Marine Corps during the Korean War (June 25, 1950 – July 27, 1953). Hopkins enlisted in the Marines in 1954, 11 months after the Korean Armistice Agreement was signed. His political opponent exploited the confusion the issue generated. Hopkins did not seek re-election to the House in 1992, due in part to his loss in the race for governor and also because of claims he had bounced checks on the House Bank. Hopkins was later exonerated of all charges. He was appointed by the G. H. W. Bush administration to a civil service post in the U.S. Department of Agriculture.