The Sandman Will Keep You Awake - The Loop
Play Sound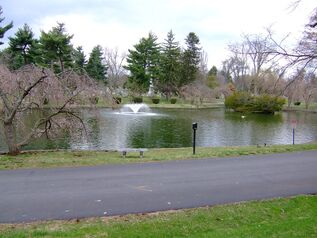 Lexington Cemetery is a private, non-profit 170-acre cemetery and arboretum located at 833 W. Main Street, Lexington, Kentucky. It is open to the public from 8 a.m. to 5 p.m.
The Lexington Cemetery was established in 1849 as a place of beauty and a public cemetery, in part to deal with burials from the cholera epidemic in the area. It now contains more than 64,000 interments.
Its plantings include boxwood, cherries, crabapples, dogwoods, magnolias, taxus, as well as flowers such as begonias, chrysanthemums, irises, jonquils, lantanas, lilies, and tulips. Also on the grounds is an American basswood (Tilia Americana), which the cemetery claims to be the largest in the world. However, this claim is not supported by the National Register of Big Trees, which claims that the largest American Basswood is located in Montgomery County, Pennsylvania.
Within the cemetery are three places that are listed separately on the National Register of Historic Places from the main cemetery: Confederate Soldier Monument in Lexington, the Ladies' Confederate Memorial, and Lexington National Cemetery.
Famous Interments
George Madison Adams

Milton Kirtley Barlow

Clifton Rodes Breckinridge

Henry Skillman Breckinridge

John Bayne Breckinridge

William Campbell Preston Breckinridge

Sanders Dewees Bruce

Joseph Henry Bush

John Winston Coleman, Jr.

Jesse Orin Creech

Basil Wilson Duke

Andrew Eugene Erwin

Ralph Wesley Foody

John Ryan Gaines

Randall Lee Gibson

Roger Weightman Hanson

Ralph Kercheval

William Preston Kimball

Hugh Wilson McKee

Arthur Blythe Rouse

Jouett Shouse

King Swope

William Henry Townsend

Katharine Elliott Wilkie
Monuments