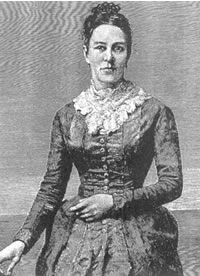 Mary Millicent Miller (1846 – October 30, 1894) was the first American woman to acquire a steamboat master's license.
Miller was born in 1846 in Louisville, Kentucky to Andrew Garretson, a steamboat engineer. She became the wife of widower George Miller of the Portland area of Louisville, and bore him four children. She also became the mother of the three George Miller already had.
Competitors of George Miller's in the New Orleans shipping market tried to put him in legal trouble by alleging to the Steamboat Inspection Service (SIS) that George was acting as both pilot and master of his steamboat, a criminal offense. In response, George told the SIS that while he was the pilot, Mary was the one acting as master. This did nothing to quell George's competitors, so in November 1883 the SIS in Washington, D.C. began to decide if it was "proper" for a woman to serve as a master on a steamboat. When it came to the attention of the reigning United States Secretary of the Treasury, Charles J. Folger, he asked "has Mrs. Miller a living husband?" Despite protestations from George L. Norton about the improprieties of the situation, who served in New Orleans as supervising inspector of the SIS Tenth District, Folger proclaimed that she should be allowed a master's license if she could do the expected work of a master with no allowance for her sex.
Miller took the tests required for a master's license, and took the required oath on February 16, 1884. That same day, Harper's Weekly ran a cartoon entitled, "By All Means Commission The Ladies," and her picture appeared in the same publication on March 8, 1884. From then on she was the captain of their ship, the Saline. Respected steamboat masters publicly proclaimed her great skill in the New Orleans newspapers, while her accomplishment allowed for other females to become steamboat pilots and masters. The rivers she sailed include the Mississippi River, Ohio River, Ouachita River and Red River.
By the 1890s, the railroads made the steamboat business less profitable, causing George Miller to seek retirement in 1891. Making one last trip to New Orleans from Portland, the Millers took their sailboat Swan to spend the winter touring the jetties of the Mississippi River's mouth, and dredge for oysters. Mary became ill from the trip, and the Swan had to be towed back to Portland. Mary would eventually die October 30, 1894. She was buried in Portland Cemetery.
Mary Miller was twice recognized in the 1990s for her pioneering effort. The American Merchant Marine Hall of Fame inducted her in 1993. In 1995 she was recognized by the National Rivers Hall of Fame. The Portland Museum keeps a permanent exhibit about her.