Jurassic World: Dominion Dominates Fandom Wikis - The Loop
Play Sound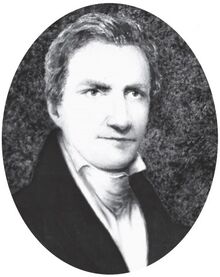 Matthew Lyon (July 14, 1749 – August 1, 1822) was an Irish-born American printer, farmer, soldier and politician, who served as a United States Representative from both Vermont and Kentucky.
Lyon represented Vermont in Congress from 1797 to 1801, and represented Kentucky from 1803 to 1811. His tenure in Congress was tumultuous. He brawled with one Congressman, and was jailed on charges of violating the Sedition Act, winning re-election to Congress from inside his jail cell.
Lyon's trial, conviction, and incarceration boosted his status among the fledgling Democratic-Republican Party as a free-speech martyr.
Lyon moved to Kentucky by 1801, settling in Eddyville in Livingston County, Kentucky (later Caldwell County and now Lyon County). He established a paper mill propelled by oxen and a distillery, and subsequently engaged in boat building. The Department of War employed him to build gunboats for the War of 1812. When the war ended, Lyon had on hand large quantities of wood and other supplies he had purchased at wartime prices for this endeavor; the government subsequently failed to honor its contract, and Lyon became bankrupt. He worked diligently to repair his finances, and by 1818 he had satisfied his debts and was again living in comfortable circumstances.
He became a member of the Kentucky House of Representatives in 1802 and was elected to the 8th United States Congress and to the three succeeding Congresses (March 4, 1803 – March 3, 1811). He sought reelection in 1810 to the 12th Congress, but was unsuccessful.
Lyon died in Spadra Bluff, Arkansas (near Clarksville) on August 1, 1822. He was initially interred in Spadra Bluff Cemetery, and in 1833 he was reinterred in Eddyville Cemetery.